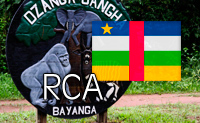 Expedition Central African Republic (RCA - Republice of Central Africa)
The expedition to the Central African Republic began in 2008 and virtually lasts to this day. The aim of this expedition was and still is to document the current biodiversity of the Sphingidae family and to compare its results with the neighboring countries.
The first steps towards the realization of this expedition were launched back in 2007 and in that period it was necessary to prepare all the equipment needed for the stay in Africa. As the next step our company purchased the vehicle Land Rover Defender 110 STW which was then "rebuilt" so it would overcome any obstacle during our journey across Africa.
Once everything was ready, our colleague Ing. Jan Prokopec took on the task of transporting all the equipment to the Central African Republic. The journey lasted nearly two months and has prepared quite a few pitfalls and challenges for him to overcome. After we reached the center of the African continent we could get started with the actual work and research.
To this day we have completed a total of eight trips to this country and have made some interesting findings. The result of our work in this country is a comprehensive report from the years 2008-2009, which can be downloaded below. The research in this country is still active and we are currently preparing the results of DNA analysis together with results from the hunt from the years 2010 and 2011 for publication in our journal The European Entomologist which can be ordered via the e-shop section.
We are also preparing a lecture series about our expedition to the Central African Republic, where you will learn much about what pitfalls and surprises to expect on your journey to Africa. You can already take a look at our collection of photographs….
Photogallery